Accessing or managing any Google product or services needs a Google account. Without Google account, we won't able to use or even access any tools. The most commonly used Google products are Android OS, Gmail, YouTube, Google+, and you name it.
'No Google account exists for this email' or 'Couldn't add user, not associated with Google account' are one of the most common error alerts that one can encounter if you're trying to add an email that is not associated with Google account.
This issue basically occurs when you're trying to add your corporate email ID. Since most of the large enterprises use Microsoft Office 365 service for mailing, hence when trying to share the access to corporate mail ID, you will most probably encounter this error.
Look at the below error that I received when I was trying to add a non-Google account into Google Analytics.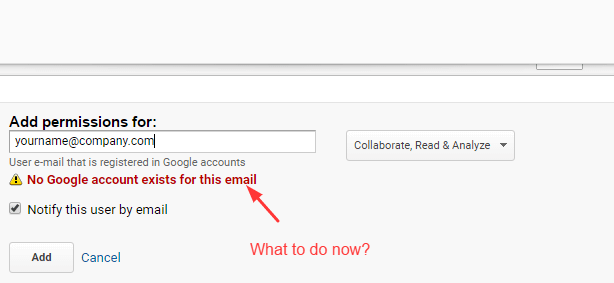 Similarly, when I tried adding the email address in Google Search Console as a new user, I got the error messaging saying Couldn't add user, not associated with Google account. Just like below screengrab: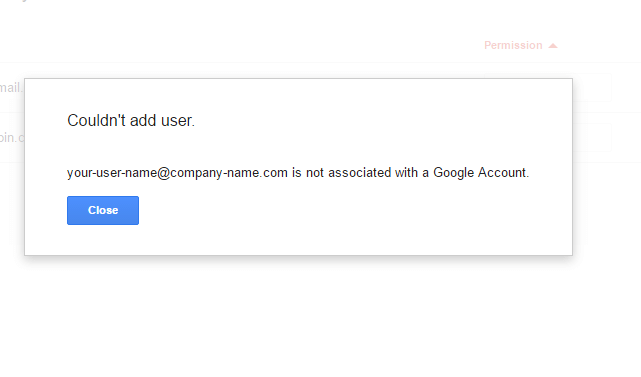 There are certainly many ways to solve no google account exist issue however, I've mentioned few that will surely resolve the error message. Below are the three major ways:
Sign up for free Gmail Account
If you use a Microsoft Office 365 mail or any non-Google mailing service like Hotmail ID, Yahoo, AOL, etc., then you may consider signing up for a free Gmail account. The Gmail is an absolutely free emailing service that is also associated with a Google account and can be used for accessing all the Google related products.
Here is the Gmail sign up form that would help to create Google account in less than 5 minutes. Please keep your mobile number and a recovery email address handy to have verification completed.
The only problem with this is now you got another mailbox to manage. However, Gmail accounts come with 15Gb free storage spaces and support unlimited cloud photo sync into Google Photos.
Sign up Google Account without Gmail
Another way for getting Google account without actually signing up for Gmail ID would be registering your existing email address in Google Accounts.
Say you've got a company or organization email ID ([email protected]), and want to use this as primary to access a few online business-enhancement and analysis products like AdWords, Google Analytics, etc. You can actually signup for Google account that could be associated with the organization email address without having to sign up a @gmail.com ID.
Just go Sign up Google account without Gmail and enter your existing corporate organizational email address or free Microsoft/Yahoo email ID and register the account to associate with Google.
This would give access to most of Google products without having to create a @gmail.com, and you do not have to manage the incoming emails. The emails will be auto-forwarded to your corporate mailbox.
Sign up for new G Suite account
Lastly, you can register your company domain name (example.com) with Google G Suite and start a free 30 days trial today. G Suite has additional benefits apart from the free version like increased storage space, security, complete management, and access control.
All the email ID created under the G Suite organization would be entitled to use any Google products and services that G Suite Admin has whitelisted.
Also, the Google G Suite Admin would also have the capability to restrict registering un-authorized products or apps. Head over to get coupon discount on G Suite for flat 20% off and do not forget to signup today!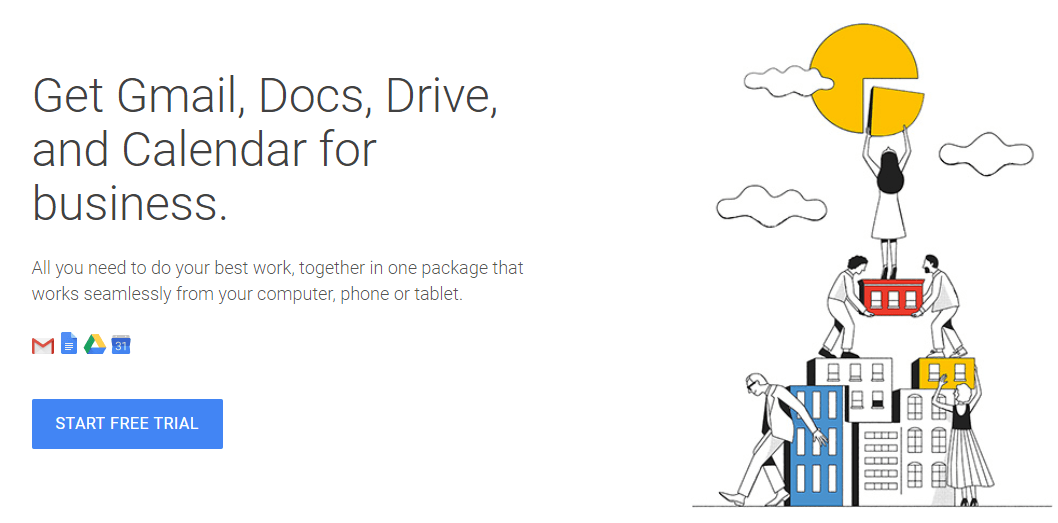 How did you resolve no google account exist?
At restoreBin, I've already subscribed to the G Suite program which automatically associates with a Google account. Hence, don't need to worry about the error ever.
You can use either of the mentioned solutions that are feasible per your needs. For a small group of people or a startup, I strongly recommend signing up for the G Suite program to make your business scalable.
Please feel free share to how you've resolved the error for you or at your organization level.